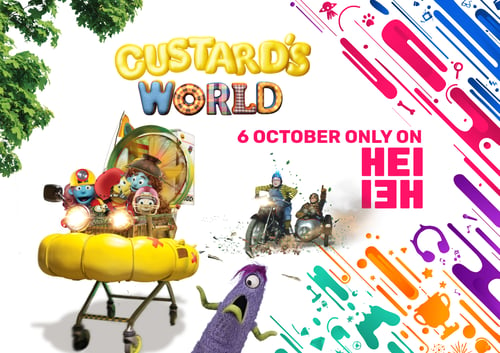 On the 6th of October Custard's World - Mission Control Kids will launch on TVNZ's HEIHEI platform. It's a new, ad free (wow!), totally safe, dedicated platform for kids!
We are proud to be one of the many NZ producers to make up the 80% Made in NZ content. For the next 4 weeks we are celebrating and we've invited some of our HEIHEI friends to join us! Each weekend there'll be different shows visiting! Loads of activities, meet and greets with the stars from your favorite shows and awesome experiences put on just for you...and there's loads of free activities! Check it out below!

---
All New Custard's World Show! - Saturday 29th
---

ALL NEW LIVE SHOW EXPERIENCE!
ADAPTED FROM SEASON 1 OF CUSTARD'S WORLD: MISSION CONTROL KIDS
The town of Doodle is a buzz with excitement as the Annual Talent Quest D-Factor Finale approaches. Custard's crew are cheering on Buzz and Jazz as they perform their acts….but they suspect Dr. Gloom will do his best to spoil the day – and they are right. Luckily young inventor Brianna has tapped into a secret spy network – Mission Control Kids – designed to keep the world safe from Super-Villains! Become a deputy spy to help Custard, Brianna and the rest of the crew stop Dr. Gloom!
An all new 45-minute long Custard's World adventure featuring original music, visual effects and new characters from the Mission Control Kid's series.
School Holiday Show Times: Wednesdays - Sundays 10:30 and 12:30
Shows include complimentary all day park passes for child ticket holders.
Suited for all ages!
*Designed for all ages. Parental guidance for under 5s due to loud, silly noises and a villain with a big nose!
---
Every Day in the Treehouse
---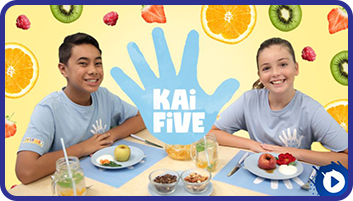 Watch your Favourite Pixar or HEIHEI Episodes
Watch new episodes from 230pm in the Treehouse!
We'll be screening some of your favourites from HEIHEI such as Kai Five, Jiwi's Machines, Fanimals and Legendary Polynesia!
We's also dusted off some loveable Pixar shorts that've made Pixar so well loved.

Pixar's unprecedented string of hit animated features was built on the short films in this from the Vol. 1 collection. We love them so much we wanted to share them with the next generation.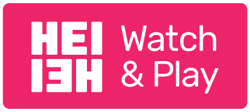 ---
Mondays - CHRIS SANDERS LIVE
---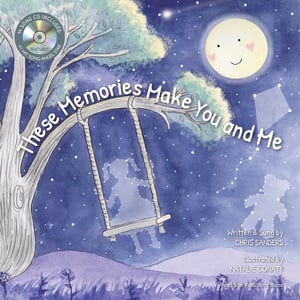 Join us to enjoy Chris Sanders new album - 'These Memories Make You and Me'
We're all about creating great family memories at Whoa! Studios so we are very pleased to have back, once again, Chris each Monday over the school holidays.
Chris Sanders is one of New Zealand's top Children's singer-songwriters and authors. His latest release 'Call For The Ambulance' featuring the '111 Ambulance Song'was written for the ASB St John in Schools Education Programme. It was released in May 2018 and has already sold over 4000 copies in its first month. This fun and very catchy book and song will help save lives by empowering kiwi kids with the knowledge of how to react in an emergency and dial 111.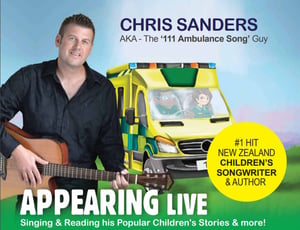 The '111 Ambulance Song' also reached #1 across the iTunes and Google Play Children's Music Chart, also reaching #2 in the iTunes Chart across all genres above the likes of Ed Sheeran and Justin Timberlake! It was also the highest charting Kiwi kids song ever, reaching #2 in the NZ Music Heatseeker Chart.
Chris will play his hits and music for the whole family - Live!
When: Mondays- 1st and 8th October
Time: 11am and 1pm
Duration: 30mins
Price: $10 - children receive complimentary park passes (value $10)
---
TuesdaYS - Let's Get Inventin' 2-Hour Workshop
---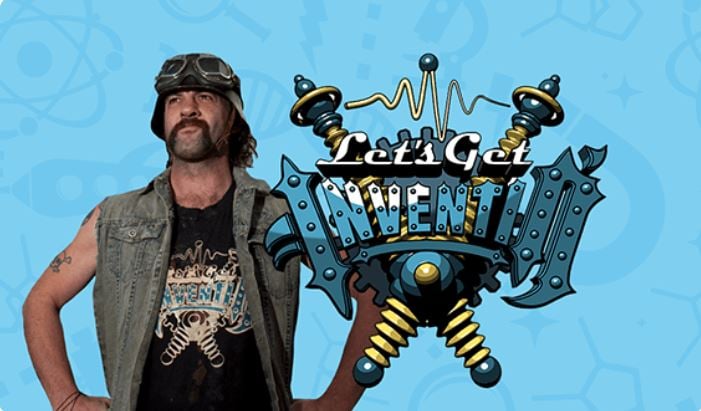 Let's Get Inventin' Workshop!
If you missed out on the Let's Get Inventin' 1 Hour workshops in September - then get in quick! Luke is back to ignite kid's minds and get those ideas to stick! Literally! In this 2-Hour Workshop Luke expands on his 1-hour workshop to include a session to generate a real prototype!
Kids will explore how to encourage the free forming of ideas where anything is truly possible. We establishing a brief, exploring possibilities and kids immediately create a new invention concept.
All kids will produce an original invention concept and build a model 'prototype' to take home
with the guidance of Luke. Some will experience presenting their invention idea to an audience! Great practice for Dragon's Den! (kidding)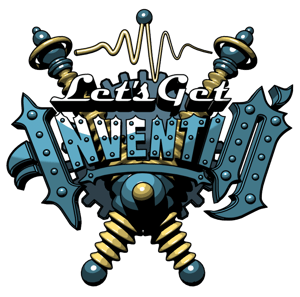 The Invention Workshop presents an opportunity for kids to experience the process that the young inventors enjoy on the show. We have designed a program that opens children's eyes to the possibility of imaginative thought in business and scientific fields.
Luke and assistants will coach the kids through this fun and imaginative process. Space is limited to ensure Luke has an opportunity to support the participants along this journey. Bookings are recommended.
When: Tuesday 2nd and 9th of October
Time: 10am to 12pm
Duration: 2 Hours
Price: $35 per child and includes complimentary all day park passes.
Recommended Ages: 8-12 years
Luke Nola's "Invention Workshops" were inspired by the award winning, Emmy and BAFTA nominated TV show he created. Since March 2007 Luke has been sparking children's imaginations through these workshops all across NZ!


That's alot of b

rig

ht sparks!!
"All kids are burs

ting with bright ideas. To prove it, 12 on the show have their own Patents" states Luke. "We have

toured over 100 schools throughout New Zealand. Meeting our fans, seeing them embrace the culture of creative thinking and innovation. Embrace S.T.E.A.M. through their own ideas."
---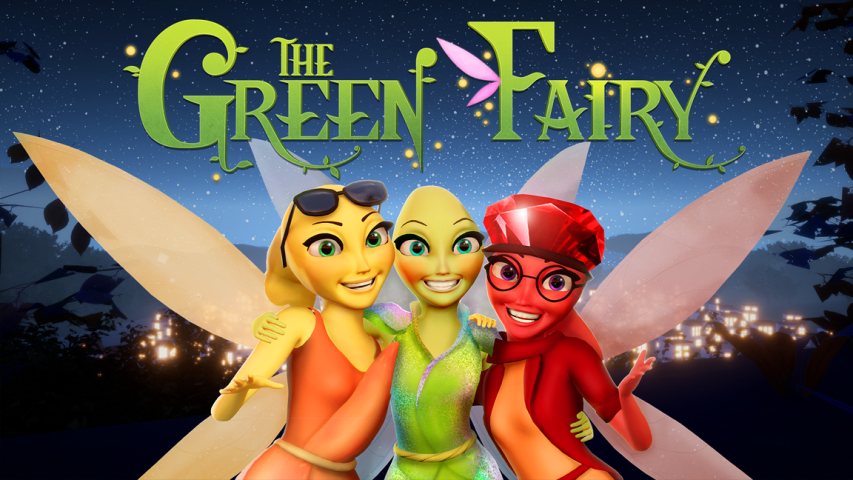 When:
Saturday and Sunday - September 8-30th
10am till 2pm
The Green Fairy is visiting Whoa! Studios every Saturday and Sunday (10am-2pm) in September! You will be able to step into the magical Fairy Ring to go on a Virtual Reality adventure. Bring your iPad and play with the Augmented Reality episodes to visit the fantasy world of the Big Little City!
Watch exclusive screenings of the Fairy Vlogs and learn more about the Augmented Reality book, where the Green Fairy pops out of the page to read you a story.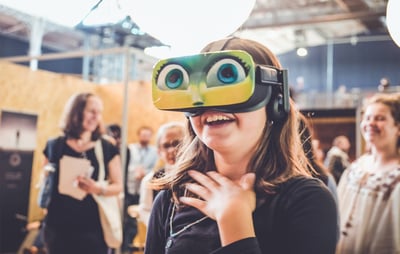 Virtual Reality Experience - Experience a 10 x minute VR Movie!
Be immersed in a VR world where you'll follow the adventure of the Green Fairy. This is a story-driven experience, where the user follows the fairy as she tells them a story through interactive VR using the Oculus headset.
Augmented Reality Experience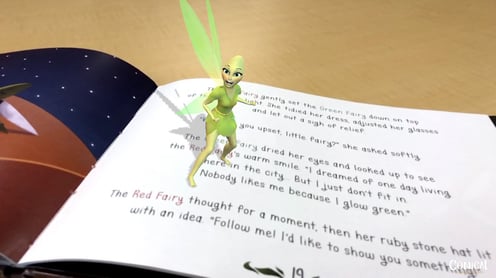 Colour your very own augmented reality Green Fairy story! Tables and sheets for colouring will be provided. Just bring along your own ipad or use one of ours to see the story come to life.
The Green Fairy AR Story Book! Kids will get a chance to get a copy of the Green Fairy Book. By using the Green Fairy app, they can bring the fairy to life, out of the page to read them the story in the book through the magic of Augmented Reality.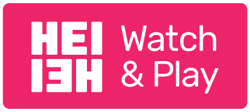 ---
From the 26th August - 30th September we will fund match any ticket purchased to a Live Custard's world show and donate the value to our Tix4Nix programme.
That means if you come along to Whoa! with your family for a great time you'll be making another family smile too! Now doesn't that feel good…? And if you want to really get happy, visit our

store

to buy a few smiles for a family via Tix4Nix. We are trying to raise 5000 individually sponsored tickets to make a difference to at least 1500 families, so every little bit helps.
When you purchase tickets to any Custard's World show eligible for a fund match, or any purchased Tix4Nix Ticket, you will

go in the draw to win!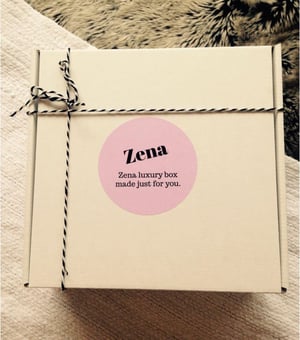 Because you are giving a smile, we think you deserve a little HUG!!
Or rather, a Petite Hug - from Zena!
Zena's hug in a box is a little bit of luxury indulgence just at the right time of the month. All organic necessities, plus, 3-4 luxury natural beauty treats, and lifestyle must haves.
We are giving away 1 every Saturday in September!