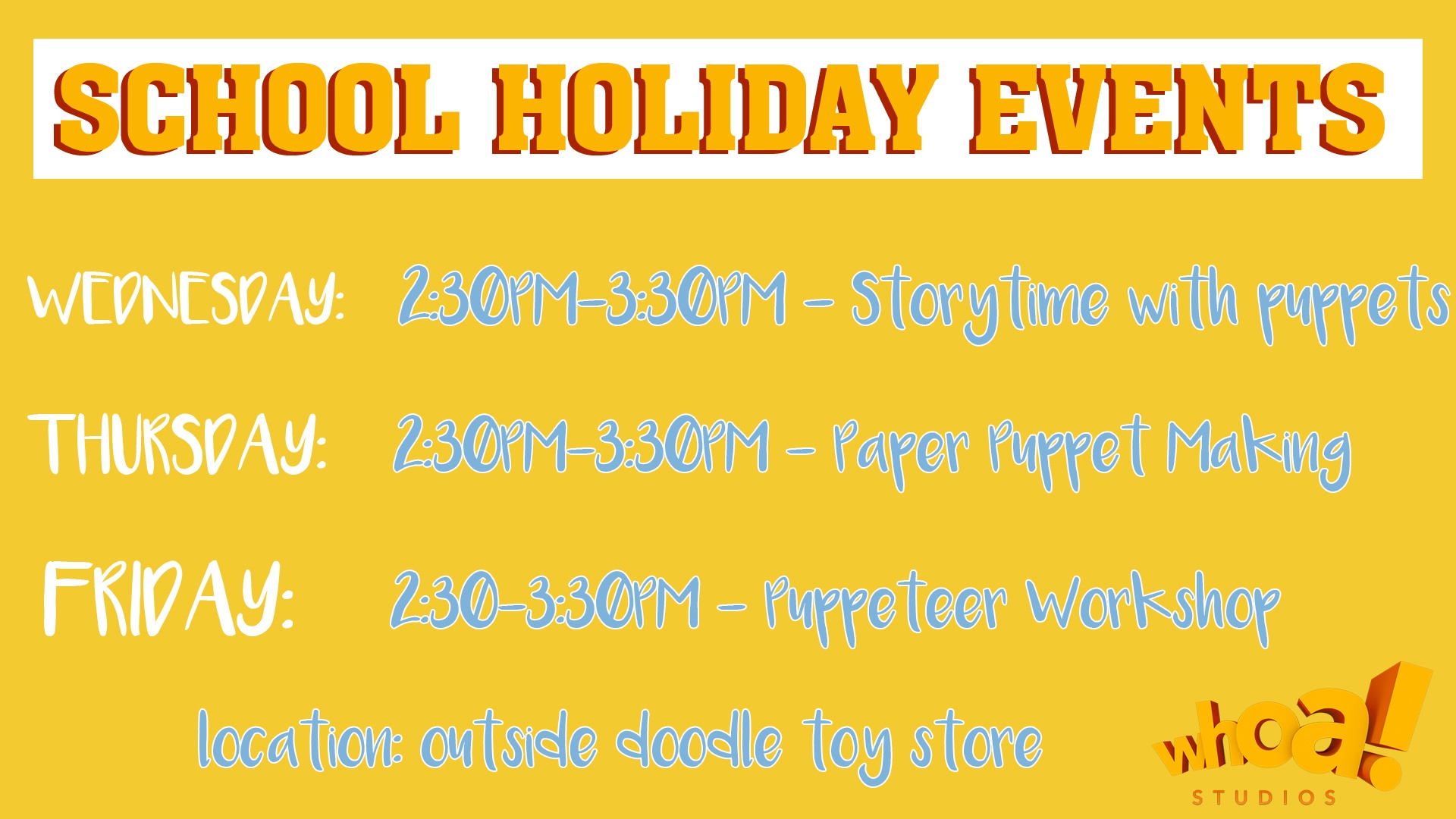 There's lots of family fun to be had at Whoa! Studios this school holidays. Be entertained, learn how to make your own paper puppet or join in our puppetry workshop! Meet some of Custard's crew in the park as they join in the fun or listen to Jazz's big brother Buzz read some of his his favorite stories in the Treehouse! There's fun and prizes for up for grabs! We hope to see you soon!
Puppets in the Park!
Come on by and spend some time playing in the park this school holiday's! You never know who might pop up!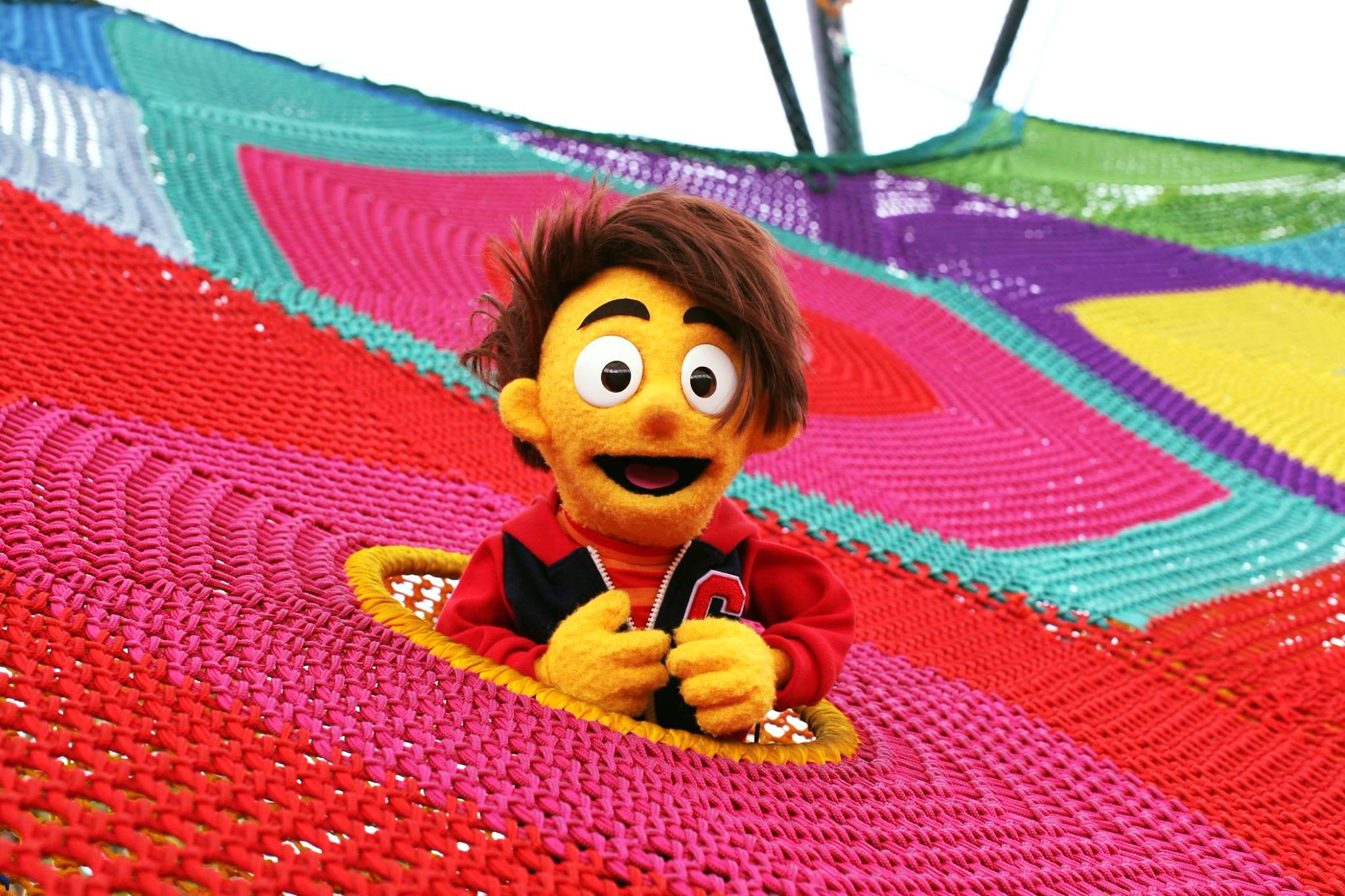 Play in the park and chat to our lovable characters over this school holiday period.
Wednesday- Sundays at 930am-10am, 11:45-12:15pm
and Saturday and Sundays 2:30-3:30pm
We look forward to seeing you soon!
---
Help Defeat DR. Gloom -

LIVE Show
---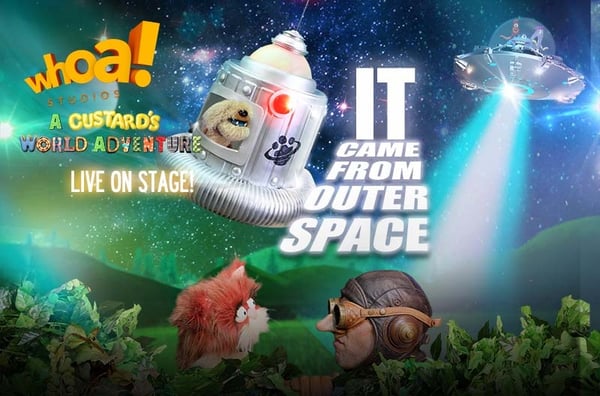 It Came From Outer Space is a 45 minute pantomime show full of laughs, songs, aliens and silly villains that are sure to get the whole family laughing.
It's a day like any other in the Town of Doodle. The sun is shining, children are playing, and would-be Super-Villain of The Year, Dr Gloom, is trying to steal everyone's smiles…
Suddenly, from the skies, comes Doog, an alien dog-like creature whose spaceship crashes in Doodle. Now, Dr. Gloom has his sights set on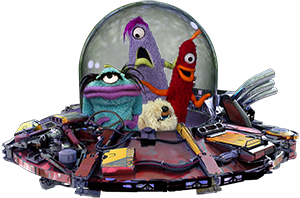 capturing Doog. YOU can join the adventure and help our young heroes find Doog first and save the day in –IT CAME FROM OUTER SPACE!
When:
During the school holiday's Show's operate from Wednesday to Sunday
1030am and 1230pm Showings
Plus Children Get Free Park Access with your show tickets!.
---
Creative fun - PAPER PUPPETS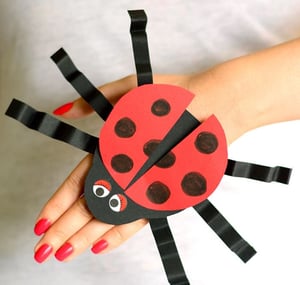 Come and create your own colourful paper puppet. Will it be a ladybug
or a butterfly?
Join our pup

peteers to lear

n how to make and move your own finger puppets!
When:
Thursday 12th & 19th July 2018
From: 2:30-3:30pm on the Red Carpet
---
learn PUPPETRY - Free Puppet workshop
---
FREE - Puppet Workshop with Jon Coddingtion (Buzz, Doog, Kea)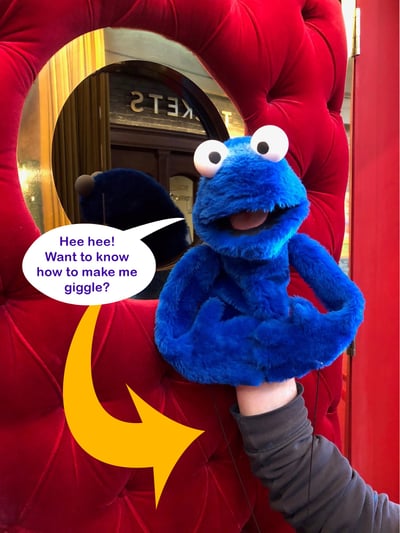 If you love Custard's World, The Muppets or Sesame Street, you might have wanted to know how to bring some of the worlds most loved characters to life!
This fun Show, Tell and Try workshop is a 1 hour introduction to puppetry that's interactive. Best suited to ages 7-15.
Bring your own puppet, or get the chance to try out one of our practice puppets . Jon will show you how to bring to life these characters for both live and on screen fun.
When:
Friday 13th & 20th July 2018
2:30-3:30 pm

Suitable for ages 7-15 years old
Big kids also welcome!
---
Eat & Play!
---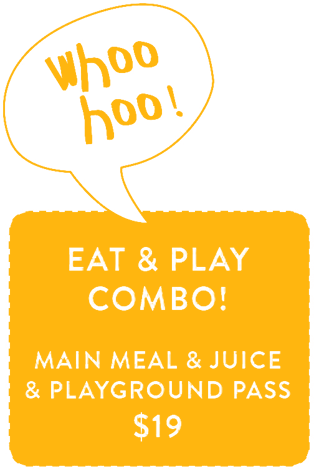 New Kid's Menu means Savings and Relaxation (finally!) for Mum and Dad!

Want to come and dine on delicious food to better some of Auckland's best eateries?
(if we do say so ourselves!)
If you aren't sure how to fill a day during the holiday's, bring the little ones to dine at The Grounds. with the new Kid's EAT & PLAY COMBO, you'll fill their tummies with yummy hearty food and turn their attention in the direction of the park to let them run riot! Leaving you and your significant other, or yourself a little bit of relaxation as you indulge in the delicious food, wine and craft beers. Top it off with a Vittoria coffee and something tantalizingly decadent from the desert menu...not your average combo!
Park play must be utilised on the same day as the combo is purchase by the diner

Park play is included complimentary to Eat & Play Combo purchasers and cannot be redeemed for cash or transferred.

Eat & Play Combos are only valid for children
---
Free - Treehouse Story Time
---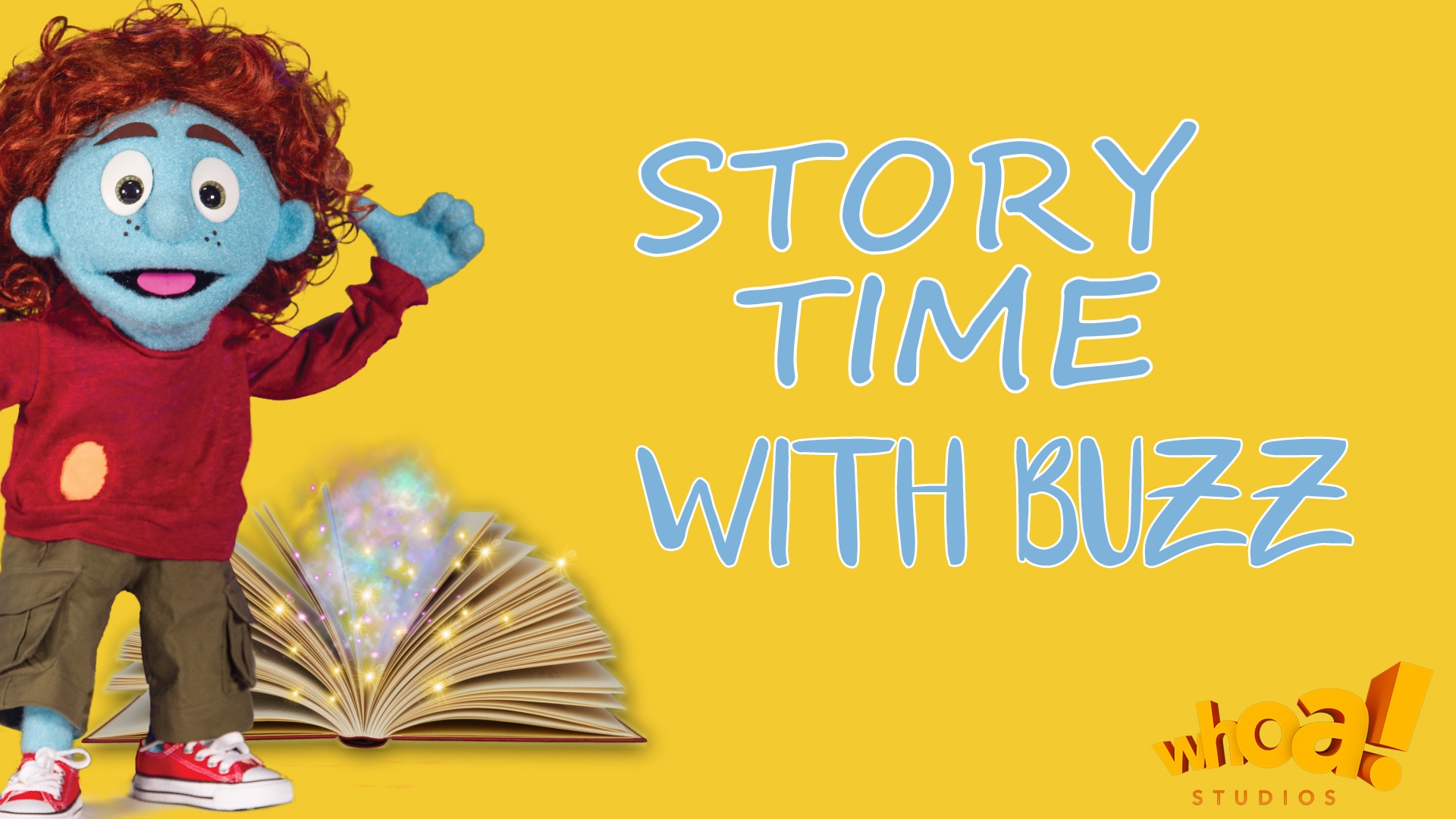 Big brother Buzz is a great story reader! He reads to his little sister Jazz all the time! Join him in the tree house for some stories from his favorite authors, such as Dr. Seuss!
Bring a cushion, a cuddle buddy and enjoy some quality time with Buzz.
When:
Wednesday 11th & 18th July 2018
From 2:30-3:30pm
---
Matariki Festival - Gourmet Hangi
---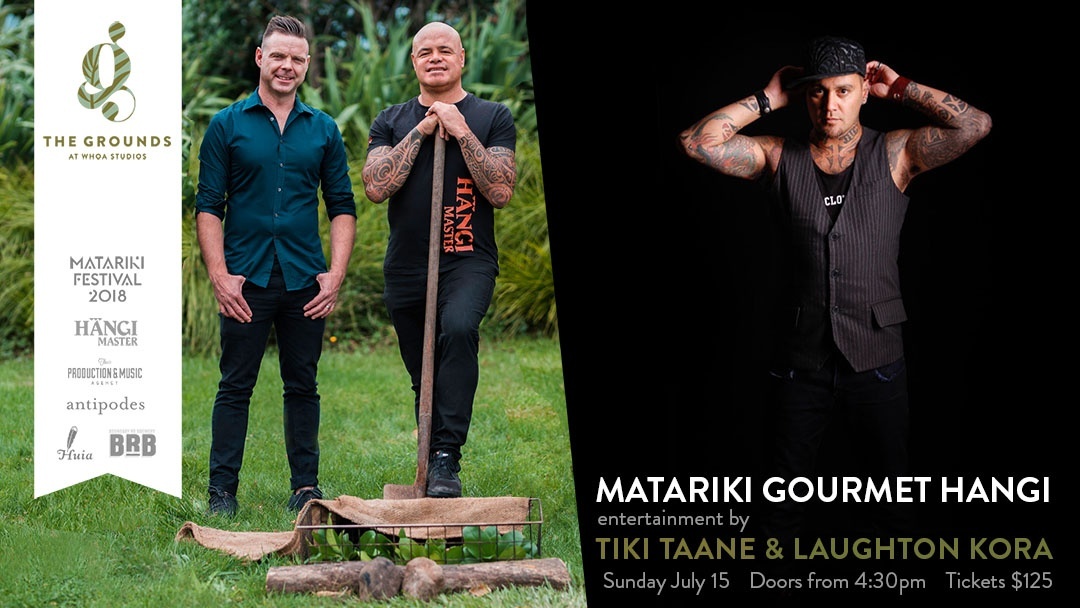 Bringing together the best of New Zealand food and music to create an incredible Matariki celebration on Sunday July 15. Our very own Ben Bayly will put his skills to the test in collaboration with hangi master Rewi Spraggon – devising a menu and dishes that will be cooked in a traditional earth oven. Enjoy a gourmet hangi followed by an intimate performance by Tiki Taane and Laughton Kora.
Come and join us at The Grounds for a very special evening and worthy celebration from 4:30pm. Tickets are limited and include a Gourmet Hangi, a glass of Boundary Road Pilsner or Huia bubbles on arrival and a live set by Tiki Taane & Laughton Kora
If you have any questions please contact our event manager – jade@thegrounds.co.nz
Sunday July 15, Gates open from 4:30pm
Tickets $125.00 per person
---